We're an affiliate: Some of the links on this page are affiliate links. We may earn a small commission on purchases made through them. Our content is not influenced by commissions.
Good lighting is always important, but especially when it comes to desk lamps. When replacing a bulb in a desk lamp you want to make sure you choose one that will help rather than hinder your concentration. We recommend purchasing bulbs with a higher color temperature which gives off a cooler light which is ideal for task lighting.
Overall, our top pick are the Cree Lighting bulbs (link to Amazon) primarily due to their reliability and long warranty. We recommend their 'Daylight' bulbs which are 5000K and perfect for a desk lamp. The Cree Lighting bulbs are ENERGY STAR qualified and suitable for use in California.
In a hurry?
If you're short on time, below you can find our top recommendations for the best light bulbs for desk lamps. (The links will take you to Amazon.)
In the rest of this guide, we'll run you through what to look for in a light bulb for a desk lamp and answer some frequently asked questions.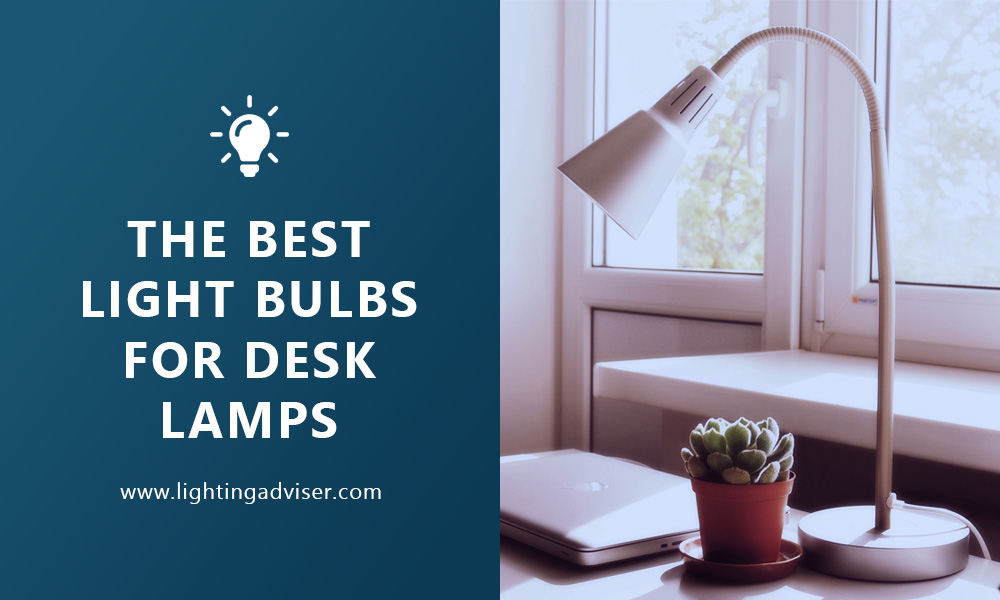 Best Light Bulbs for a Desk Lamp
Below you can find our recommendation for the best light bulbs for a desk lamp. We've selected a better quality bulb and a more budget-friendly option. The main thing you want to look for is a high color temperature (over 4000K) as these bulbs have a cooler appearance which is better for concentration and completing task.
One thing worth noting is that both of these bulbs have an E26 base. This is the most popular base for desk lamps but if yours has a different base, we have a buyers guide further down the page to help you pick a bulb.
1. Cree Lighting 'Daylight' Bulbs – Best Overall
If you're happy to spend a bit more for good quality bulbs that are built to last, Cree Lighting bulbs are the best choice. They are reliable and come with a long warranty if you do have an issues.
For desk lighting, we recommend the 60w eqivalent bulbs with the 'Daylight' (5000K) color temperature. This lighting provides a bright, cool light which is ideal for concentrating on tasks. If you prefer a warmer light – which is more suited to create a relaxed environment – the Cree bulbs are also available in 'Bright White' (3000K).
The 60w equivalent bulbs give off 815 lumens which most peope will find bright enough for a desk lamp. Younger people tend not to need as much light so the 40w equivalent bulbs from Cree are also an option.
The Cree light bulbs are ENERGY STAR qualified and suitable for use in California.
Find the Cree Lighting bulbs on Amazon.
---
2. AmazonBasics 'Daylight' Bulbs – Great Value
The AmazonBasics light bulbs offer great value and are quite a bit cheaper than the Cree bulbs making them a great option if you're looking to cut costs.
Like the Cree bulbs, there are a few options for the wattage and color temperature, but for desk lighting, we recommend the 'Daylight' (5000K) color temperature and 60w equivalent.
These AmazonBasics bulbs have a listed life span of 10,000 hours (or 9 years based on 3 hours of use a day). However, a few customers have had issues with reliability of these bulbs which is why the Cree bulbs are our top pick.
It's also worth noting that some users found the bulbs to be too harsh which, again, is why we recommend the Cree bulbs.
There is a version of the AmazonBasics bulbs that are CEC compliant which you will need to choose if you live in California.
Find the AmazonBasics light bulbs on Amazon.
---
What Type of Bulb Is Best for a Desk Lamp?
We highly recommend using LED bulbs for your desk lamp. In fact, LED bulbs are the best choice for most uses these days. They're more efficient than alternatives like halogen and florescent (CFL) bulbs and they last much longer too.
The high efficiency mean LED bulbs don't put out much heat which is ideal for a desk lamp to help keep you comfortable and not too hot.
LED bulbs do tend to have a higher upfront cost but prices are starting to come down. Light bulbs aren't particularly expensive anyway and the longer lifespan of LED bulbs makes up for the additional cost.
Best Size & Shape of Bulb for a Desk Lamp?
The standard shape for a home lighting light bulb is known as 'arbitrary'. An arbitrary bulb is labeled with the letter 'A' followed by a number which indicates the size of the bulb in 8ths of an inch at it's widest point.
Aribitrary bulbs are the shape most people think of when they imagine a light bulb. This shape disperses the light evenly so
The most common size and shape for desk lamps is 'A19'. If you have a smaller desk lamp, an A15 bulb would be a good option.
Choose a Bulb with High Color Temperature for a Desk Lamp
The color temperature of a bulb refers to how the light appears. Lower temperatures are warmer with a more yellow appearance and higher temperatures have a bright white appearance.
We recommend a higher temperature bulb for a desk lamp because they are better for concentration and focus. Lower temperatures are great for relaxation but assuming you want to be focusing at your desk, a higher temperature is the way to go.
Color temperature is rated in Kelvin and you want to look for a bulb over 4000K.
Of course, this assumes you don't want a warm bulb for your desk lamp. If you want a warmer light, look for a bulb around 3000K.
Light Bulb Wattage for Desk Lamps
There are a couple of things to consider when it comes to wattage.
Don't Exceed Maximum Wattage
Your desk lamp should have a maximum wattage printed on it somewhere. Make sure the bulb you choose doesn't exceed the maximum wattage. If you exceed the maximum wattage, the bulb will draw more electricty than the lamp can handle which can damage the lamp and is a safety hazard.
If you choose an LED bulbs, exceeding maximum wattage shouldn't be a problem since they are much more efficient than alternatives. LED bulbs usually have a much lower wattage than the limit of any desk lamp.
LED bulbs often have an 'equivalent wattage' as well as a much lower actual wattage to help you compare to older incandescent bulbs. As long as the actual wattage is below the maximum wattage limit, it's safe to use.
Best Wattage for a Desk Lamp
We tend to think of wattage as the brightness of the light which isn't technically correct. Wattage is a measure of electrical power and lumens is the measure of quantity of light. Higher wattage does tend to mean more lumens but as long as the lumens are the same, a lower wattage bulb will be more efficient for the same amount of light.
Lightology recommends between 3 – 10 watts for an LED bulb for a desk lamp. This translates to around 300 – 800 lumens. The amount of light needed increases with age so the older you are, the more watts/lummens you will want.
Make Sure the Base Fits Your Lamp
Light bulbs have different base fittings that attach to the lamp. You need to make sure you choose a bulb which fits your lamps fitting.
In the US, the most common base fitting for a desk lamp is E26.